A visit from Terre del Marchesato is the right occasion to taste a vertical of Aldone, the wine produced only from Merlot grapes, dedicated to Aldo, father of Maurizio Fuselli, from whom it takes its name.
Aldone is produced from a vineyard planted in Bolgheri in 1954, when Aldo and Emilio moved from the Marches in search of important investments and territories in which to produce great wines.
The wine produced for the first time in the 2005 vintage ages in French oak barriques for about 18 months.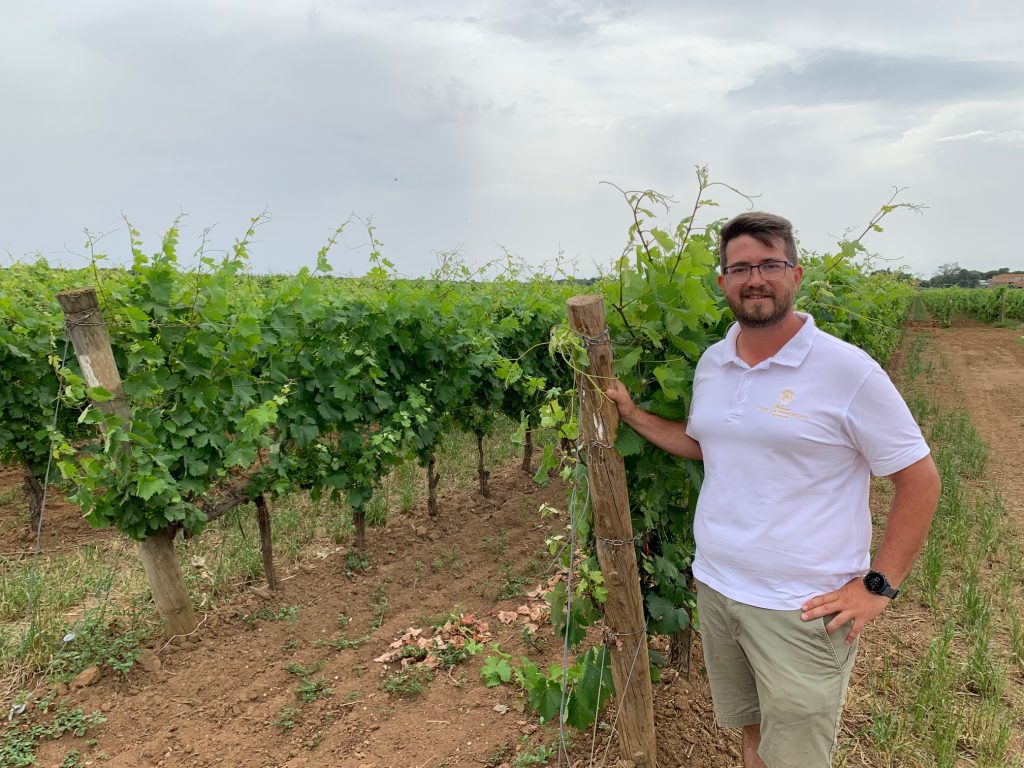 The harvest takes place by hand in small crates, the bunches are selected first in the vineyard and then on the sorting table in the cellar, followed by destemming and soft pressing.
The alcoholic fermentation takes place in new French oak barriques at a controlled temperature between 24° / 26°C for a week, followed by maceration for 10 / 15 days, essential for extracting colours, aromas and tannins.
The aging takes place in new French oak barriques in the barrel room, at controlled temperature and humidity for a period of about 18 months, during which the malolactic fermentation also takes place, necessary to soften the tannins.
At the end of the refinement the wine is bottled, where it rests for another 12 months before being introduced on the market.
We tasted 5 vintages of Aldone with Alessandro Fuselli, third generation in Terre del Marchesato and we were definitely impressed by the precision of execution and aging potential.
Among the vintages tasted, 2005, 2013, 2016, 2020 and 2022 in super preview still aging in barrique.
The 2005 vintage shows impressive enjoyment and exceeded all expectations, presenting itself as complete and truly structured and slender. The 2013 vintage, a bit stiff and with signs of tiredness due to important extractions of matter and probable prolonged maceration on the skins typical of those years. The 2016 vintage reaches important qualitative peaks, perhaps the best ever produced. Two thousand twenty and 2022 two splendid expressions that will make people talk over time.
For the occasion we also tasted Maurizio Fuselli, the 100% Petit Verdot that drives customers crazy. Absolutely among the best ever produced in Italy for personality and harmony.
Below are the comments of all the wines tasted:
Red Wines
Producer
Denomination
Wine
Vintage
Score
Type
Terre del Marchesato
Toscana
Maurizio Fuselli
2016
96
Red

Deep and decidedly dark in its sensory profile, it recalls cinchona, black pepper, juniper berries, sandalwood, black plums and wild myrtle. A lot of Mediterranean scrub describes the secondary scene. Full body, perfectly polymerized tannins and a finish of remarkable progression. Only 1800 bottles produced per year. Drink now or get old.

Terre del Marchesato
Toscana
Aldone
2016
95
Red

Wow! Very deep and clear in the sensory profile it shows a richness and complexity that with grit but so much grace tells of plums, blackberries, linden, camphor, sweet caramel, juniper berries, mixed Mediterranean herbs and coriander. Full body, very powerful and balanced in the gustatory progression, it has noble tannins of very fine grain and a truly performing and enjoyable finish. A Merlot of great character and expression. Drink now or get old.

Terre del Marchesato
Toscana
Aldone
2005
93
Red

Precise and deep, it shows a multifaceted sensory profile composed of notes of black plums, black olives, capers, sautéed mushrooms, dark chocolate, cinchona and rhubarb. Medium body, soft tannins with a fine grain and an honest and genuine finish that gives pleasure to every sip. Balanced and beautiful 17 years later. Drink now.

Terre del Marchesato
Toscana
Aldone
2020
93
Red

Expressive and decisive in the floral profile, it shows notes of lavender, hibiscus, hyacinth, plums, magnolias, gardenias and green tea leaves. Lots of fresh and dynamic energy reminiscent of eucalyptus and green tea leaves in the background. Full body, well-made biting tannins and a finish of remarkable progression. Better since 2026.

Terre del Marchesato
Toscana
Aldone
2022
93
Red

Elegante e composto al naso mostra note miste floreali e fruttate di tutto rispetto. Amarene, cioccolato fondente e pompelmo rosa. Corpo pieno, tannini rotondi ed un finale di ottima progressione che avrà bisogno di tempo per distendersi. Meglio dal 2027. Da botte, da riassaggiare.

Terre del Marchesato
Toscana
Aldone
2013
91
Red

Powerful and spicy, the nose shows notes of black plums, blackberries, cinchona, dates, mandarin peel, black tea leaves and wild myrtle. Full body, decidedly smooth and very fine-grained tannins and a warm finish with a strongly spicy return. Drink now.