Domenico Clerico is a name that refers to innovative ideas in both the vineyard and the cellar, a name that goes down in history for breaking the mould and visionary choices which are much more understandable today than they were then.
Domenico's main principle was to draw the maximum potential from the land, and to allow the vine to express its character unrestricted.
The story begins in 1978 in Monforte d'Alba in the heart of the Langhe where Domenico inherited five hectares of land from his father. The land was split between vineyards and a little farm which until that time had produced fruit trees. Domenico immediately understood the potential of what he had inherited and began producing his own wine, giving life to one of the most virtuous real estates in the Langhe.
In 1977 he started buying plots, all very diverse and each one with its own particular characteristics: Bussia, Ginestra and Mosconi, up until when in 2006 a new Barolo was born in Serralunga D'Alba.
Through strength and dedication the winery now has 21 hectares of vines and a production of 110,000 bottles per year. Passion and hard work accompany Domenico Clerico's winery allowing it to dominate both the national and international oenological panorama.
It was with great pleasure and a bit of excitement I had the pleasure of meeting the owner during a virtual tasting conducted by Giorgia and Oscar who are positive and dynamic forces in Langa.
On that occasion we tasted Domenico Clerico Barolo 2017, Barolo Pajana 2017, Barolo Ciabot Mentin 2017, Barolo Aeroplanservaj 2017 and Barolo Precrisitina 2011, the great wine dedicated to Domenico's daughter which, following the custom was released onto the market after ten years.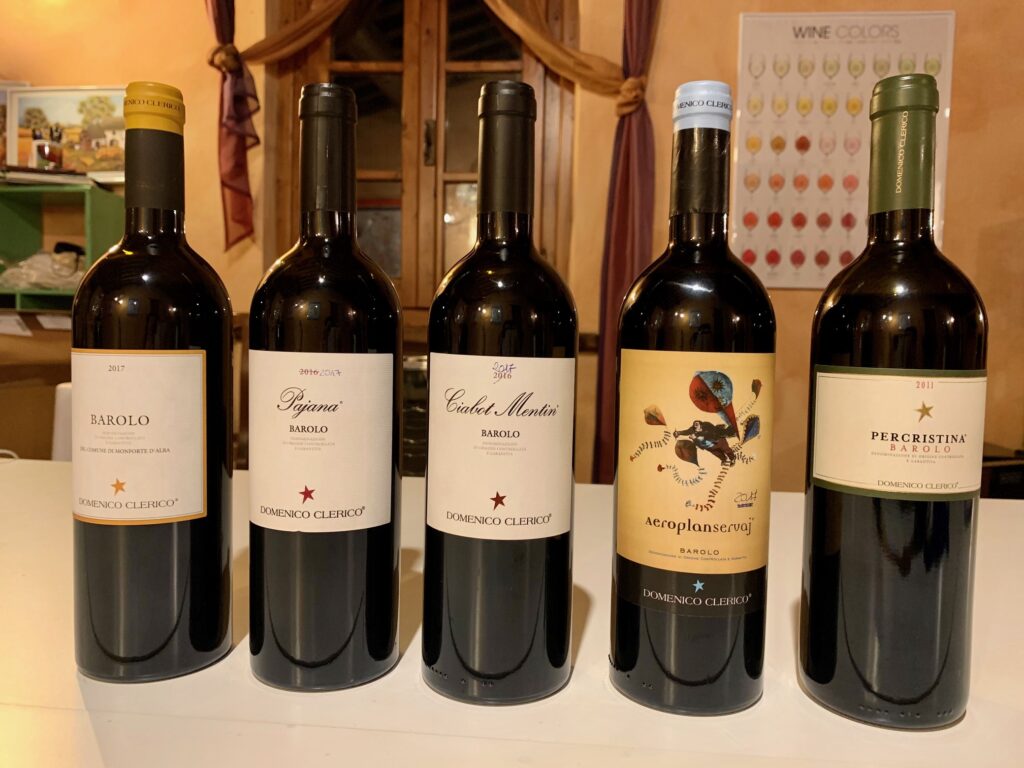 A very interesting tasting that from the beginning gave me the opportunity to learn in depth about the territory and even more about the history of a name which has become a legend in both Italy and abroad.
The first label tasted was the Barolo vintage which is a blend of the best vineyards in the Monforte d'Alba area; it is representative of a fundamental classic label for Barolisti, describing the deep impact and unique verity of this area.
Pajana and Ciabot Mentin are two wines that were born in MGA Ginestra. Different on paper and even more so in the glass. The two wines are produced in the first case from a vineyard situated at 330 metres a.s.l. planted in 1971 and 1991 with South-Easterly exposure and, in the second case, from a vineyard situated at 420 metres a.s.l. (at the highest point) with Easterly exposure which was planted in 1978.
Pajana is born from mixed terrain, by nature predominantly silty whose composition blends equal parts of sand and clay which after careful vinification gives a soft wine with sweet tannins and medium muscularity.
Ciabot Mentin is the son of similar terrain but different soil. The main soil is also made up of silt but a higher percentage of sand takes over in this vineyard instead of the clay composition. The elevated altitude of the origins of wines which are always more tense and vibrant means they need more time in the bottle before coming out in the major part of the market. It was the first wine which made Domenico's name world famous.
There is a high percentage of limestone in both of the plots in which the geological formation of the soil derives from the classical one of the Langhe; the area of Marne di Sant'Agata 'of the fossils'.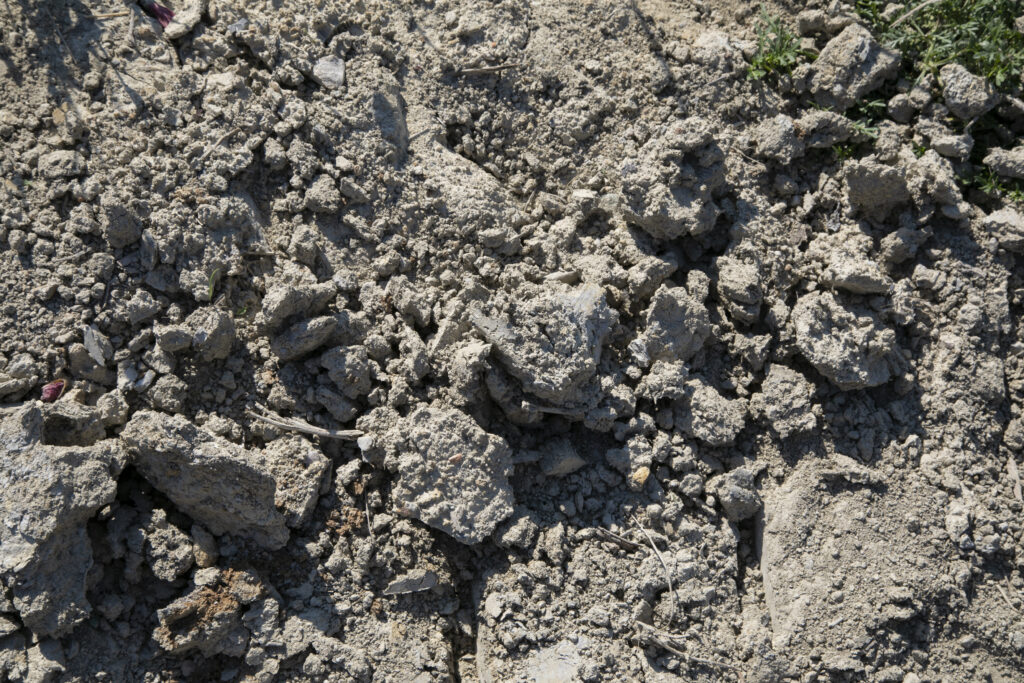 Aeroplanservaj was the last to be born in the winery, one which Domenico strongly desired to create and is produced in Serralunga d'Alba, an different area in respect to Monforte d'Alba in both composition and characteristics.
Aeroplanservaj was born in MGA Baudana from a vineyard at 340 metres a.s.l. with South-westerly exposure.
Slightly younger, it was planted in 1994, Domenico wanted to try his hand at making a wine from grapes which came from a difficult area, a bet which he won.
This ground breaking choice deserved a completely diverse label to truly show the difference of this brother who had arisen from strange origins. That is why this imaginative label is immediately recognizable on the shelves of the best wine shops, on the wine lists of the best restaurants and in the cellars of lovers of great wines.
It was surprising how at each step Domenico's choices and ideas were ahead of his time and are in current use now almost 20 years after their conception.
The last wine to be tastes was the Percristina, one of the greats, a legend which is only produced in the best vintages. A really high percentage of silt – over 60% – and a vineyard from the 60's distinguishes this plot in the MGA Mosconi, obviously still within the beautiful frame of Monforte d'Alba.
The vineyard is about 1 hectare with Southerly exposure produces healthy and perfectly mature grapes which are refined for ten years in the cellar before being released onto the market.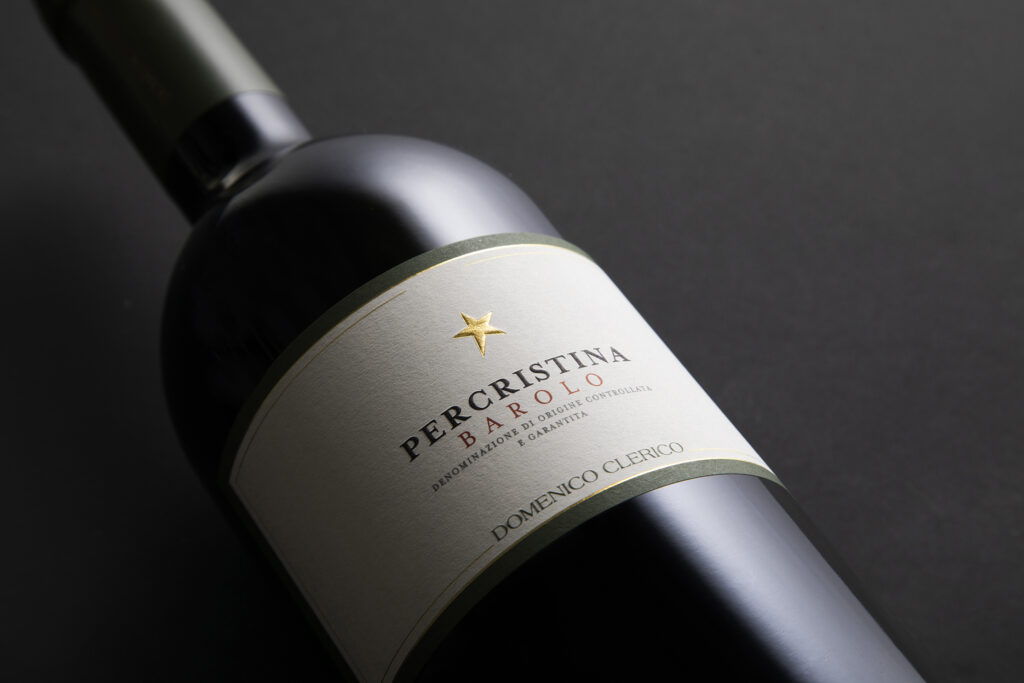 Five years refinement in the barrel and five years aging in the bottle in the best temperature and humidity conditions in the cellar are fundamental in order to fully enjoy the scents which then slowly evolve in the glass.
A pairing of both vision and anticipation confirms what is said about Domenico. In the last year the Mosconi plot has become one of the most valued and sought after plots for strong, muscular wines.
At the same time a Barolo released on the market after 10 years aging in the owners cellar is becoming the norm in Langa, for the wines to enter the market ready and to present them at one of the absolutely best moments, when the tannins are polymerized but the fruit still remains fresh and biting.
Unfortunately in 2017 the wine world had to lament the premature death of Domenico who leaves an indelible mark on Barolists and many others, creating – as so often happens – a myth of one of the greats who was ahead of his time.
Today a young, motivated team are driving the winery toward new adventures and exciting challenges which can tell a beautiful story of revolution and extreme passion for the work to new countries and new markets.
A little spoiler; from 2017 the MGA written about on many labels will (it has been said by Giorgia and Oscar) take a step back in respect to what Domenico did and unite in the beauty of a chorus which in Langa is synonymous with strength and territorial cohesion.
If you want to define Domenico Clerico as a modernist you may do so but please don't limit yourselves to describing him as a character who used small barrels instead of the large ones, rather go above that and try to understand what it means to be a revolutionary in a traditional field such as wine.
There's more, much more than a revolution that he gave to his land.
Di seguito i commenti dei vini degustati:
Vini Rossi
Produttore
Denominazione
Vino
Annata
Score
Tipo
Domenico Clerico
Barolo
Percristina
2011
96
Rosso

È profondo e complesso in un profilo dark che alterna la pienezza imponente di prugne nere, more, salvia arsa, cioccolato fondente, e succo di arancia rossa. In sottofondo la matrice secondaria terrosa rivela carattere territoriale nella bellezza di funghi tritati, terra bagnata, pino selvatico e sandalo. Balsamico e fresco in una difficile annata a Barolo fonde i primi sentori terziari di caffè tostato e bacche di ginepro. Corpo medio-pieno, tannini cremosi egregiamente fusi nella matrice ed un finale delicato e performante che regala emozione ad ogni sorso. Intrigante e complesso regala piacevolezza e morbidezza nel sorso che chiude scorrevole ed unidirezionale. Cinque anni di affinamento in barrique e 5 anni di affinamento in bottiglia prima di essere rilasciato sul mercato. Bevi ora o invecchia.

Domenico Clerico
Barolo
Ciabot Mentin
2017
94
Rosso

Alterna il frutto maturo a sentori di arancia sanguinella, buccia di mandarino, mandarino verde, chinotto, datteri, caramello salato e china. In sottofondo l'integrità del frutto dona fragranza e piacevolezza ad ogni sorso. Corpo medio-pieno, tannini di grana fine ed un finale succoso e leggermente austero che si esalta nella brillantezza dell'acidità laterale. Meglio dal 2023.

Domenico Clerico
Barolo
Aeroplanservaj
2017
94
Rosso

È brioso e centrato nel profilo principale che regala pienezza di frutti rossi di lamponi, ribes, melagrana, succo di pompelmo e cedro in pezzi. In sottofondo i petali di rosa donano eleganza e nobiltà. Corpo pieno, tannini molto levigati e fusi nella matrice ed un finale fruttato piacevole ed integro che ritorna intrigante. Meglio dal 2023.

Domenico Clerico
Barolo
Pajana
2017
93
Rosso

Classico e preciso nell'alternanza floreale rivela sentori di fiori di ibisco, ginestra, mallo di noce e radici di ginseng. In sottofondo l'energia dark ricorda la bellezza del chinotto e della salvia arsa. Corpo medio-pieno, tannini di grana fine e di natura vellutata ed un finale disteso e di natura intrigante. Il finale è succoso centrato e brillante e delizioso nella chiusura amabile. Best from 2022.

Domenico Clerico
Barolo
2017
92
Rosso

È radioso nel calice con note accattivanti che ricordano i fiori rossi pressati, la radice di ginseng, la liquirizia bagnata e le bacche di ginepro, sottili ma ben presenti. In sottofondo note rosse di lamponi e ciliegie disidratate regalano bellezza e carattere. Corpo medio, tannini maturi ben distesi nella matrice ed un finale morbido ed accogliente. Better from 2022.