Valpolicella, land of wine, gives us extraordinary emotions.
Here and more precisely in the municipality of Marano di Valpolicella, in the Valpolicella Classica area, is the Terre di Leonecompany, a family business born in the Veronese hills, of volcanic origin, in 2004.
To give life to it are Federico and Chiara who receive from grandfather Leone a priceless patrimony called family. The wine family in this case translates into 7 hectares of land at 450 m. a.s.l.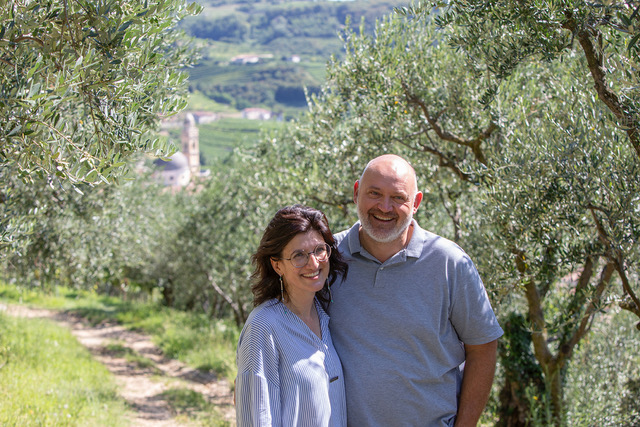 Leone gives the winery its name, leaving the couple the opportunity to create a production characterized by quality, tradition, respect for the territory and technological innovation with the vine and the wine. The latter is highly sought after but which allows the noble wines of Valpolicella to stand out.
The project was born in 1996, the cellar was completed in 2005, the year of production of the first Amarone product which then came out on the market in 2009.
The property extends over mainly basaltic volcanic soils.
The high-density guyot-trained vineyards (a rather rare system in Valpolicella) of Corvina, Corvinone, Rondinella, Molinara and Oseleta frame this extraordinary landscape that Chiara and Federico take care of in the best possible way.
During the harvest, the harvest is only manual and the drying of the grapes lasts 120 days. The grapes rest under controlled conditions until the first days of March just as Leone once did.
The production philosophy sees the use of pumps reduced to a minimum. The cellar was conceived to work with gravity, structuring the winemaking on different heights.
This avoids stressing the wines and often also a lot of oxidation caused by poorly cared for rapid movements. The wine decants in a natural way with the action of cold and when cleaned it is decanted mainly in barrels of 25 and 10 hl from 8 months to 7 years.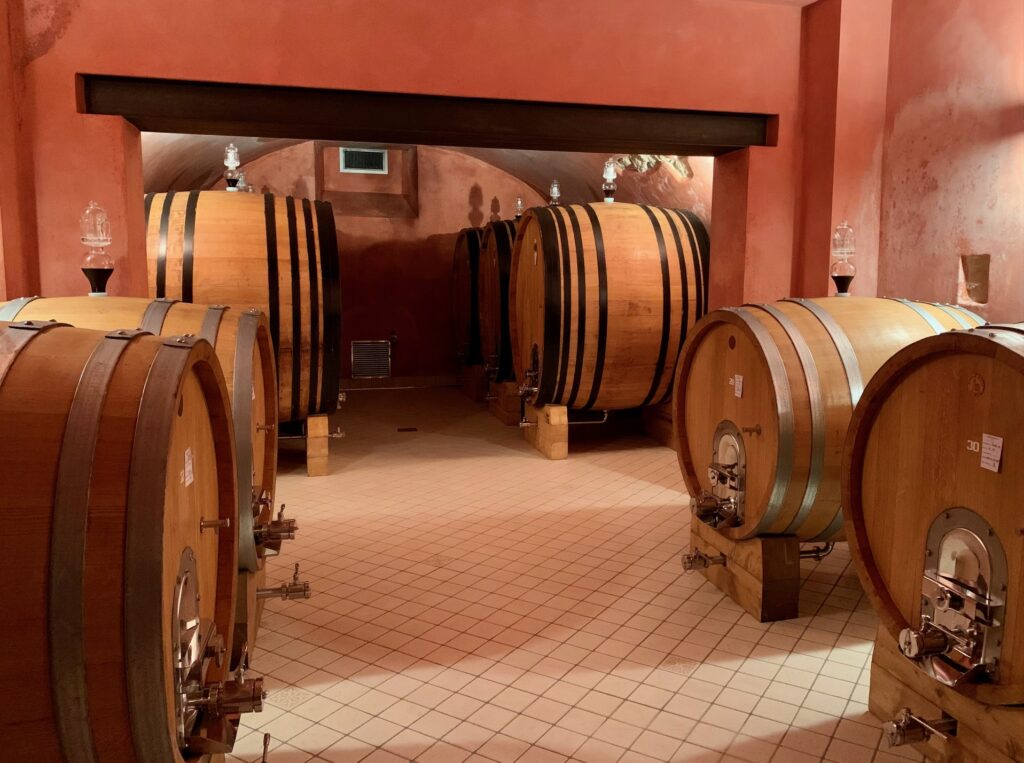 With a total production of 45,000 bottles, Terre di Leone is one of the boutique wineries not to be missed if you are visiting Marano in Valpolicella.
Below are the comments of the wines tasted on the occasion of our visit to the company:
---
Red Wines
Producer
Denomination
Wine
Vintage
Score
Type
Terre di Leone
Amarone della Valpolicella Classico
Riserva
2011
97
Red

Terse and decidedly captivating, alternating notes of strawberries, sour cherries, eucalyptus, green tea leaves, wet earth, acacia flowers and linden. A lot of jasmine and hydrangeas dominate the secondary scene giving an important genetic imprint, fresh and shining in the matrix ten years after the harvest. Full bodied, perfectly matured tannins and a finale of incredible workmanship that is thrilling from the start. 80 months of aging in wood and 11 months in bottle before being bottled. A vintage for Terre di Leone that will go down in history. One of the best Amarone della Valpolicella Classico Riserva ever tasted. Only 7400 bottles produced. Drink now or hold.

Terre di Leone
Valpolicella Ripasso Classico Superiore
2016
95
Red

Powerful and mature it displays dark notes of black plums, blackberries, black tea leaves, wet earth and juniper berries. Full body, perfectly ripe tannins and a compact and decidedly intriguing finish sip after sip. A unique job made in Marano in Valpolicella. Drink now or hold.

Terre di Leone
Valpolicella Classico Superiore
2016
94
Red

Authentic and bright, it displays a clear profile full of exciting notes reminiscent of wild strawberries, agapanthus flowers, iris, ripe raspberries, juniper berries, black tea leaves and dried marjoram. In the background the nuances of violets and red plums increase the complexity of the matrix. Medium-full body, perfectly ripe ripe tannins and a serious and composed finish that closes juicy and decidedly brilliant sip after sip. Drink now or hold.

Terre di Leone
Amarone della Valpolicella Classico
2012
93
Red

Extremely complex and intriguing, it displays complexity and brilliance in a deep matrix that alternates notes of black plums, incense, camphor, black tea leaves, burnt sage and calendula in a sensory spiral. Full body, relaxed and sweet and a smooth finish. Eight years of aging in large 25hl barrels before being bottled. Best from 2022.

Il Re Pazzo
Valpolicella Classico
2019
93
Red

This young red excites in its bright color, which gives nuances of pomegranate, raspberries, currants, lemon blossoms, nutmeg and pressed white flowers. Medium body, round tannins of excellent workmanship and a graceful and extremely classic finish in the noble sip. A blend of Corvina, Corvinone, Rondinella, Molinara and Oseleta. Drink now or hold.

Il Re Pazzo
Amarone della Valpolicella Classico
2015
93
Red

Persuasive and full of personality, a three-dimensional wine rich in raspberries, currants, wild strawberries, warm earth, flint, camphor, orange blossom and acacia. Full body, soft tannins of important quality and a flowing finish rich in grace. Amarone complex decidedly modern and pleasant. Drink now.

Terre di Leone
Veneto
Dedicatum
2015
92
Red

Warm and well designed this blend of 14 different grape varieties that gives nuances of rose petals, grapefruit, currants, raspberries, star anise and white pepper. Light shades of cherries in alcohol and grass clippings in the background describe the secondary profile. Full body, soft tannins of excellent workmanship and a soft and silky finish. Aged 4 years in tonneau before being bottled. Drink now.

Il Re Pazzo
Valpolicella Ripasso Classico Superiore
2018
91
Red

Ripe on the nose it shows notes of black plums, blackberries, cinnamon powder and black cherries in alcohol. Medium-full body, soft and enveloping tannins and a warm and enveloping finish. Smooth and drinkable. In contact with the Amarone marc, a portion of Valpolicella is added to produce Ripasso. Drink now.