In the splendid city of Florence, in the refectory and atrium of the Santa Maria Novella museum complex on the 25th of March 2022 the preview of L'Altra Toscana was held. It is an association of 10 Consortiums who represent 13 denominations.
With Francesco Mazzei as President of the Association the consortiums have decided to unite for the first time in this event which is highly important for the Tuscan region and to add weight to the presentation of the new vintages are: Carmignano, Chianti Rufina, Colline Lucchesi, Cortona, Maremma Toscana, Montecucco, Orcia, Terre di Casole, Terre di Pisa, Valdarno di Sopra. Smaller and perhaps less well known wineries united to promote territories which after all share their lands with the more prestigious labels. Denominations that are traditional yet also innovative in Tuscan oenology, who bring all the identity and the flavour of the neighbouring terroir to the glass.
For this debut three Masterclasses were conducted by Gabriele Gorelli, the first and only Italian Master of Wine.
With great understanding of the territories and complete professionalism Gabriele presented 10 wines at each class, one wine per denomination.
The themes discussed were: The Other Sangiovese, The Value of Time and The Courage to Change.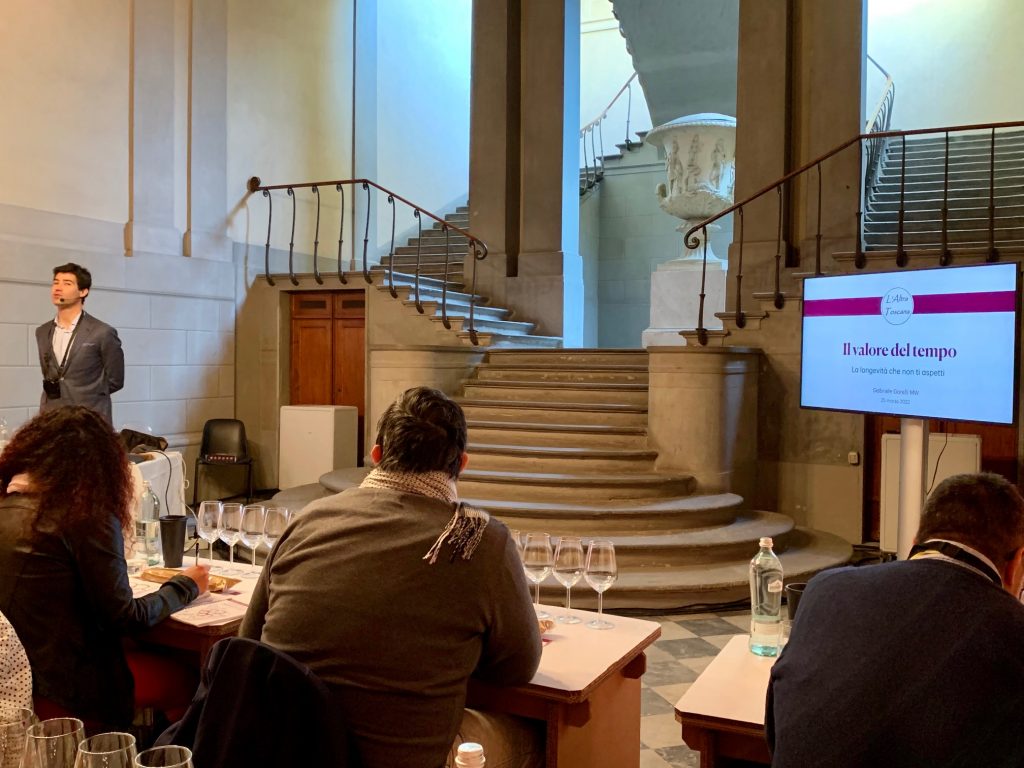 The first saw the presentation of 10 Sangiovese, chosen by the Master of Wine, which could express the territories of origin in the clearest possible manner.
The Value of Time was an emotional Masterclass, a voyage through the years and past oenology which saw Sangiovese in the prevalent leading role but also different products made with international vines.
The last guided tasting, The Courage to Change, in which modern wines were presented; dynamic, fluid, of great drinkability and often dressed in unusual garb such as amphors, earthenware, porcelain stoneware and cement.
The province of Arezzo shone out in all three Masterclasses, Boggina C Riserva 2019 from Petrolo was the best Sangiovese in the first tasting. Refined for 24 months in French oak tonneaux it is a deep wine but also dynamic and spirited at the same time. Showing a continental character that is typical of the Valdarno di Sopra area.
And the Caberlot from Podere Il Carnasciale was the best label presented in the second class, the 2013 vintage chosen for the occassion was presented in Magnums and was in a full state of grace almost ten years after the harvest.
In the opinion of WinesCritic.com the final tasting was a landslide victory from Cortona, still in the province of Arezzo. The Syrah Cortona 2018 by Stefano Amerighi was sensual, deep and truly captivating. Great performances by Carmignano and Colline Lucchesi.
Among the best wines were Capezzana Carmignano 1981 and Tenuta di Valgiano 2013. Great interest for the Selvapiana 1980, a Chianti Rufina noteworthy but unfortunately evolved and not in perfect condition.