Le Volpi e l'Uva (The Foxes and the Grapes) wine shop in Florence has, for nearly 30 years, been giving truly emotional experiences to the clients who either by chance or design find themselves in this little corner of paradise.
Excellently run by Emilio, Riccardo and Ciro, always with a smile and ready to tell visitors all about their beloved territory, even in such historically difficult times such as these. The Florentine wine shop gives a wide choice of excellent and carefully researched products of various natures that is truly impressive.
Emilio, Riccardo and Ciro, all great characters, immediately put you at your ease and propose wines which are rich in identity at a really incredible quality to price ratio.
The policy in force at Le Volpi e l'Uva is simple: attention to meticulous research of the unique terrain of each denomination, the expressiveness of native vines who exalt in difficult, sometimes defined as heroic growing viticultural conditions. Of course always with a careful eye on protecting the environment, often opting for biological or bio-dynamically produced labels.
Fundamental and apart from the direct relationship with the producers is the visit to the winery before choosing new products to put on the shelves, thereby consolidating the professional close-knit team.
The wine shop is really small with little tables both inside and out but it has all the cards in place to guarantee a memorable experience for those who choose to pass a little of their time in this truly authentic place.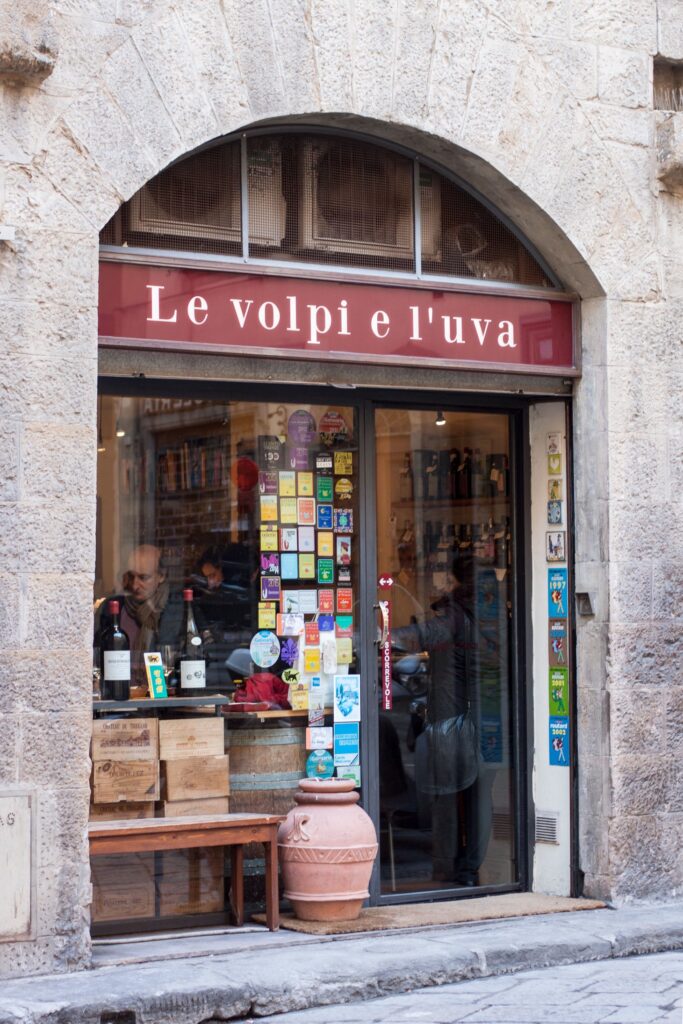 Steaming crostoni (large slices of toasted fresh bread) with an unusual choice of toppings, cheeses from various areas, red and white wines produced in fascinating places and rare French labels which cost five times less than they would do normally pay justice to a place that, for almost 30 years, has shown to the Florentine people, but above all to tourists from around the world uncompromising and genuine Italian culture.
Try it to believe it!